One of the more exciting TV events to occur last week was the PaleyFest, a four-day event in which the biggest TV stars, producers, and directors come together to celebrate their craft. It's hosted and organized by The Paley Center for Media and last week, the event brought back the cast of one of the nation's most beloved TV shows: "Parks and Recreation." The Amy Poehler-led and Greg Daniels and Michael Schur-created TV series, that ran from 2009 to 2015, is, to this day, beloved by many. The show launched the careers of the likes of Chris Pratt, who many of us now know as the star of Marvel's "Guardians of the Galaxy" franchise and the "Jurassic World" series.
Speaking of Chris Pratt, the actor took to social media last week to share his skincare regimen when preparing for events such as the PaleyFest. Turns out, his "beauty secret" is something you can get your hands on, as it is available at Sephora! He took to his Instagram stories to share a short clip of him and his hair stylist, Bridget Brager, preparing for PaleyFest. In it, ht was wearing white patches that Brager later revealed to The Strategist to be Klorane Smoothing and Relaxing Patches with Soothing Cornflower, which you can purchase at Sephora. Check out the photo! Fun fact: Model Karlie Kloss is also a fan of this stuff.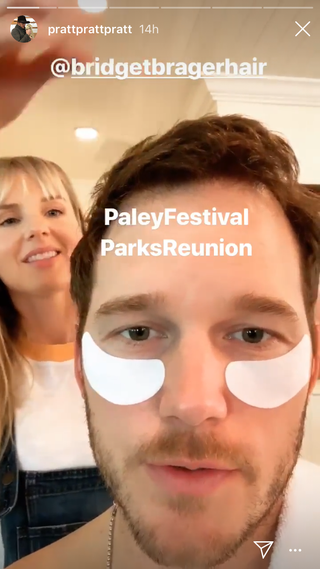 Instagram/@Prattprattpratt
Now that we know Chris Pratt's secret to fresher looking skin, we've topped the list with this Klorane products and listed down nine other men's skincare products that many have been raving about. Check them out below.
1. Klorane Smoothing and Relaxing Patches with Soothing Cornflower
Get smooth under-eye skin just like Chris Pratt with these soothing and relaxing patches. The secret behind it is its refreshing cornflower that moisturize and brightens tired eyes. It is enriched with cornflower extract and chamomile extract that both have anti-inflammatory properties. It also contains glycerin and castor seed oil that packs on the moisture in skin to keep it looking fresh and plump. Shop at Sephora.
2. Kiehl's Since 1851 Age Defender Power Serum
Who said serums are only for women? Kiehl's Since 1851 challenges the norm with this strengthening, visibly lifting, anti-wrinkle treatment specifically designed for men's skin. It is formulated with cypress extract that visibly reduces the signs of aging, including dullness, fine lines, and uneven texture. It reduces the appearance of wrinkles with its super lightweight and easy to absorb formula. It's formulated without parabens so you know it's safe on the skin. Shop at Sephora.
3. Jack Black Double-Duty Face Moisturizer Broad Spectrum SPF 20
The skin's first line of defense from environmental damage is sunscreen. That's why men need to lather on the sunscreen especially now that Spring is here and Summer is on the way. This broad spectrum sunscreen from Jack Black provides SPF 20 protection while providing treatment for the face. It's double action formula moisturizes the skin with its blue algae extract that keeps skin supple and reduces inflammation. It also contains vitamins A and C and minerals to improve the skin's appearance. Free of parabens and sulfates. Shop at Sephora.
4. Clinique Aloe Shave Gel
Start your shaving ritual with this oil-free shaving gel that transforms into a rich lather to soften your beard for a smoother, closer shave. Its secret ingredient is aloe, which helps calm razor burn. It also contains tea and chamomile ingredients to help calm the skin. Shop at Sephora.
5. The Ordinary Caffeine Solution 5% + EGCG
Hardworking men deserve to treat their skin to lots of healing benefits. This concentrated serum features high-solubility caffeine and green tea cathechin that visibly and effectively reduces eye contour pigmentation and puffiness. It has a lightweight formula that is easy to absorb. It has an extremely high five percent concentration of caffeine, supplemented with highly-purified epigallocatechin gallatyl glucoside (EGCG) from green tea leaves that effectively improves the appearance of tired eyes. Shop at Sephora.
6. Duke Cannon Supply Co Online Only News Anchor Cedarwood 2 in 1 Hair Wash
Designed specifically for hardworking men, this 2-in-1 hair wash features the unique scent of cedar, sandalwood, and spices. It also has protein to strengthen hair and larch tree extracts to hydrate it. Shop at Ulta.
7. Duke Cannon Supply Co Big Ass Brick of Soap Smells Like Accomplishment
Designed to meet the demanding lifestyles of men, this superior grade soap features the masculine scent of Bergamot and Black Pepper evoke a feeling of drinking a fine scotch in a wood-paneled den. It brings to mind a sense of accomplishment and excellence that you won't find anywhere else. This brick is three times larger than most bar soaps, so it's sure to last for weeks or even months. Shop at Ulta.
8. American Crew Forming Cream
It doesn't get more straightforward than this. American Crew offers an easy to use styling cream that works well for any type of hair. It provides excellent hold, pliability, and a natural, head-turning shine that's enviable. It also makes hair look fuller and thicker. Contains Carnauba, Cactus Flower Extract, and Castor Oil. Shop at Ulta.
9. Redken Brews 3-In-1 Shampoo, Conditioner and Body Wash
Busy men need a solution that does three jobs in one. This body wash, shampoo, and conditioner is a functional all-in-one package that cleanses the body, conditions the hair, and provides head-to-toe freshness for daily use. It is great for traveling or for hitting the gym. Shop at Ulta.
10. Baxter Of California Daily Face Wash
Safe for daily use, Baxter Of California Daily Face Wash is crafted without any sulfate. What it has, though, is nourishing coconut-derived cleansing agents, aloe vera, and allantoin that reduces redness and hydrates the skin. It also contains caffeine that provides a boost of energy. Fragrance-free and paraben-free. Shop at Ulta.
For more amazing stories on skincare, make sure to check out the following stories from our archive.
5 Benefits of Castor Oil for Your Skin and Hair + Our Recommendations!
Pucker Up for the 10 Best Lip Masks and Lip Balms in the Market Today
What is Retinol and Why You Should Care About It
10 Best Face Scrubs That Will Reveal Brighter, Clearer Skin
Ulta's 21 Days of Beauty Sale: Watch Out for Our Favorite Beauty Picks
Best Skincare Products on Amazon with Promising Reviews!
Just a disclaimer – We have partnered with these companies because we use their products and/or proudly trust and endorse them – so we do receive a commission if you make a purchase or sign up for services. Often, we are able to negotiate special discounts and/or bonuses, which we will pass on to you via our links. We often get short notice on sale items available for 24-48 hours as we will pass these savings onto you.